6 Reasons Not to Give Up On Your Marriage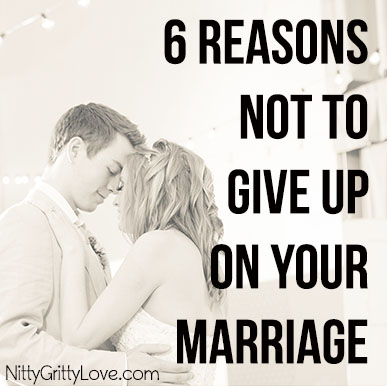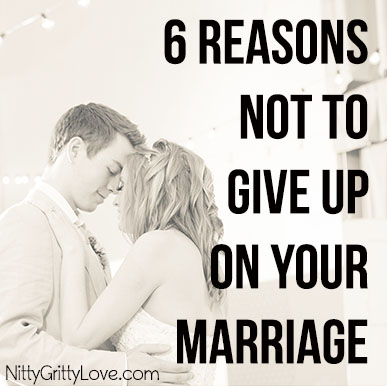 Sometimes this life feels like a war zone. Emotionally, physically and spiritually. It can become very discouraging and we all get pretty tired out. When I complain about this, sometimes my husband will remind me, "We aren't in heaven yet. It's earth still." I wish it could be heavenly here, with no more sadness or pain. Instead, we are in the battle zone, weary and longing for rest.
Jeremiah 31:25 says, "For I will satisfy the weary soul, and every languishing soul I will replenish."
Jesus does give us rest from having to atone for our own sin, but we are still engaging in a very real war each day. We are striving to live the gospel and to share it with others, under very difficult situations. We are tempted to surrender or just run away, but we are called to stay, knowing that God will provide all we need to stand.
Here are six instances in which the Bible calls us not to give up:
1. Don't give up when you feel weary from the battle that rages around you.
"In all circumstances take up the shield of faith, with which you can extinguish all the flaming darts of the evil one." —Ephesians 6:16
2. Don't give up when you feel rejected by others.
"Be strong and courageous. Do not fear or be in dread of them, for it is the Lord your God who goes with you. He will not leave you or forsake you." —Deuteronomy 31:6
3. Don't give up when sin is dragging you down, making you feel helpless.
"If we confess our sins, He is faithful and just to forgive us our sins and cleanse us from all unrighteousness." —1 John 1:9
4. Don't give up when you feel so fearful, and don't feel the strength to trust.
"Do not be anxious about anything, but in everything by prayer and supplication with thanksgiving let your requests be made known to God. And the peace of God, which surpasses all understanding, will guard your hearts and your minds in Christ Jesus." —Philippians 4:6-7
5. Don't give up when personal failures threaten to ruin you.
"And we know that for those who love God all things work together for good, for those who are called according to his purpose." —Romans 8:28
6. Don't give up when you feel unloved, unwanted, or unappreciated.
"No, in all these things we are more than conquerors through him who loved us. For I am sure that neither death nor life, nor angels nor rulers, nor things present nor things to come, nor powers, nor height nor depth, nor anything else in all creation, will be able to separate us from the love of God in Christ Jesus our Lord." —Romans: 8: 37-39
No matter how low you feel, God will lift you up and be your strength when you feel weak. Don't give up—no matter what.
[ois skin="Post Footer"]