Kiss the Wave That Throws You Against the Rock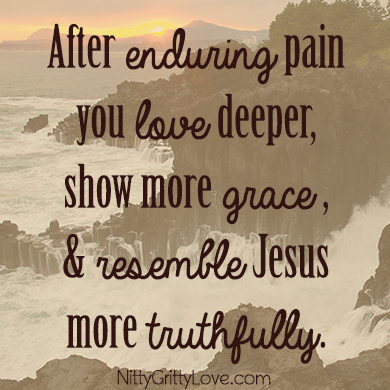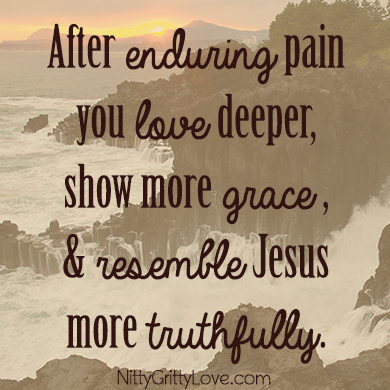 It's easy to look back and see how faithful God has been. It's much harder to trust that fact when you are in the thick of things. When suffering is pressing in all around you. It's hard to find the strength to stand when you feel hit on every side. We cry out for relief, and all we find is silence. We wonder when help will come and how we will endure.
Charles Spurgeon said, "I have learned to kiss the wave that throws me against the Rock of Ages."
What does it mean to "kiss the wave"?
This quote stopped me in my tracks. What did he mean "Kiss the wave?" I don't think I have been kissing any waves. I have instead flailed around screaming for help so I wouldn't sink under the water.  I have longed to be lifted out of the waves, but it has never occurred to me that I should kiss them. We don't like to experience suffering, but I am starting to realize that our sufferings are not in vain. Every hardship produces something good.
Joseph knew this feeling well. His world came crashing in around him and he had no escape in sight. His life is a perfect example of how God can use our heartbreak and suffering. His story reminds us that God is in charge of every detail. Joseph said to his brothers, "As for you, you meant evil against me, but God meant it for good, to bring it about that many people should be kept alive, as they are today" (Genesis 5:20). He said these words to the brothers who sold him into slavery. The brothers who turned their backs on him. They meant to harm him, but God used that difficult time in Joseph's life to bring about good things, and eventually their own salvation from famine. Joseph knew God was the one ordering his steps, and no matter how bleak things got, his past, present and future were safe.
Joseph didn't just endure one hardship. It was a relentless series of scary events that he had to walk through. It was wave, after wave, after wave. And God was near him through it all. I don't think we are expected to be brave and overconfident during these times, but rather humble, and trusting like a little child. It takes steadfastness, and we find this by clinging to Him, our rock.
We're out of control
I know I need to trust that God is in charge of every detail of my life, but it is challenging for me to rest in this. I want to control the things around me and keep suffering far from my life. I want a life preserver, a raft, and arm floaties. But the ocean is large and strong, and I can't escape the waves that come. Life can be so overwhelming.
Broken dreams…fear of failure…loss of relationships…expectations…
We all have different struggles and trials that scare us and cause pain. But after you get through them, you look around you and see that God has changed you. You love deeper, you show more grace, you resemble Him more. The waves are frightening at times, but I always land in a safe place, and that is all that matters.
[ois skin="Post Footer"]