Moms: You Can't Be Everything to Everyone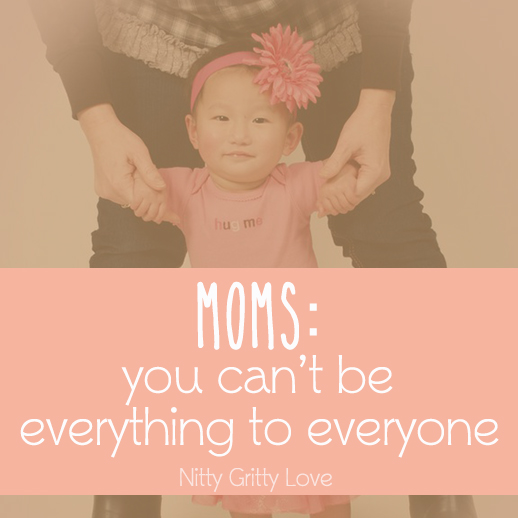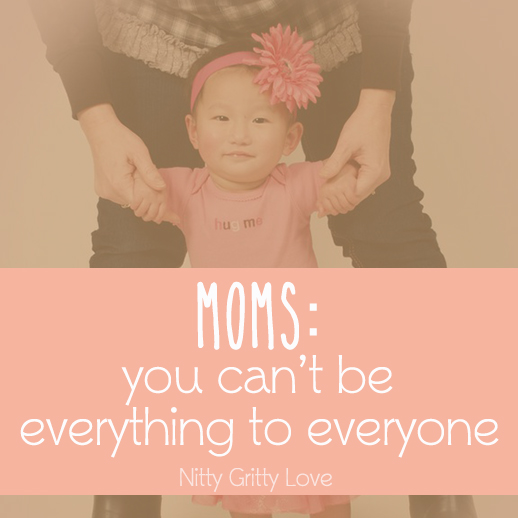 Motherhood is not an easy task.
When you hear the term, "nitty gritty," motherhood easily comes to mind. Being a mother is a whirlwind of joy and heartache that exhilarates and exhausts. Sometimes the intensity of that love is even overwhelming. In that first moment, when you look that child in the eyes, mountains could crumble from the weight of that huge exchange of love.
Your heart is forever outside your body, walking around. You grasp at it and try to hold it close, but it wanders and roams and leaves you bewildered and even frantic as you build walls that are never tall enough. Like a mother hen, you want to protect your kids and draw them in under your wings. The thing is, your reach isn't sufficient at times. You aren't able to go in that many directions all at once. It's an awful feeling, not being able to hold on. Is it a cruel joke? Loving this deeply? We would do anything for our children, even face death.
Well, God knows that kind of Love. His Son experienced the very worst kind of hurt . . . oh the pain of the cross, that precious Child and the suffering He felt. My Father in Heaven knew the fear and heartache I felt last year when I found out my sweet daughter had a walnut-sized tumor in her beautiful, precious, head.
When the fear grips your heart
I could barely hold myself together. My legs could hardly carry me. Numbness and fright coursed through me. After initially finding out about it, we had to wait a day until we knew what we were dealing with. I recall laying in bed that night, staring at the ceiling, trying to keep my whole body from unraveling. I wanted to fly into a million little pieces to escape the pain and worry. I couldn't make it go away. I knew I could either have a total breakdown, which wouldn't help my girl in the least, or I could trust God to walk us all through this nightmare.
I don't think I ended up making a choice—God swept down and covered me with his Hand.
The Peace that surpasses understanding is real
After praying that night and begging God to help me, I woke up feeling like I was in a protective bubble. I went through the next couple of days feeling a tremendous and unexplainable sense of calmness. Things were clear as I made my way towards my daughter's side. My heart was indeed outside my body, facing something scary and awful, but I felt able to love Tayler and be strong for her. It wasn't my strength though, because I am actually a weak, crybaby when it comes to my children suffering.
I spoke to Elyse Fitzpatrick on the phone the day before Tayler was going in for surgery and I explained this strange feeling. What she told me hit me like a ton of bricks. She said,
God doesn't promise to give us peace for imagined worries that could possibly happen. He promised to give us peace for that moment when we are in crisis and need Him.
It rang true for me . . . for that moment . . . I am plagued by anxiety and I worry over all of the bad things that could happen and I never feel peace about any of it. But here I was, truly in the middle of a horrid situation, and I felt secure. I knew my child was protected from this hurricane that was threatening to dash her to pieces. She was tucked into the cleft of the Rock.
You aren't expected to be amazing
Being a mother is sacred and beautiful, but there are moments when we won't be enough for our kids. There are times we will completely fall short. God is there, to extend His long arm and grab my children tight. When the world is turned upside down without our permission and without notice. When I'm too feeble. When I'm shaking in my boots. He is big enough. My job is better spent pointing my children to the cross, because that's where they find true hope, forgiveness, and love. When my love can't put things right, His Love fills in all of the crevices and missing places.
He made my feet like the feet of a deer
and set me secure on the heights.
He trains my hands for war,
so that my arms can bend a bow of bronze.
You have given me the shield of your salvation,
and your right hand supported me,
and your gentleness made me great.
You gave a wide place for my steps under me,
and my feet did not slip.

—Psalm 18 33-36
It's not your job to create a perfect existence for your child. You can't undo the messes. You can't hold back the pain or shut out the world. Perfection is only found in the One who rescued us, and He is the One who will be able to carry the weight of it all.
I have tried being a savior many times. It is never pretty. It's also arrogant and leaves me an anxious mess.
Help me Lord . . . and let me mother these precious children in Your strength alone. If I am strong and courageous,  it's only because you have set my feet securely under me and have guided me. You keep me from falling because of your righteous right hand. Let my children see past me and my failures and see only Your work of grace in our lives. It's the only hope I can offer them. AMEN!
This Mother's Day, I would like to remind you that you can't be everything to everyone. Take the pressure off. Remember that God has already done the work, and all you do is rest in His goodness and grace.