Sometimes I Just Want to Be Angry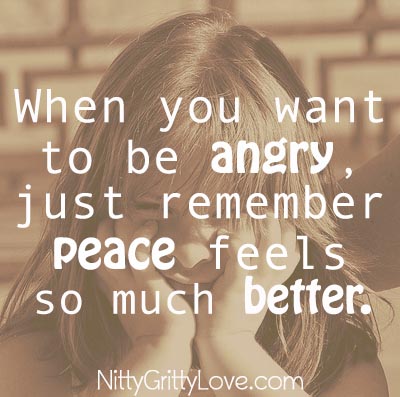 Sometimes I'm just too angry to pray. Sometimes I just don't want my heart to change. I want to stay angry. I don't want to be peaceful—I just want to scream. I want to scream at the top of my lungs and collapse into a puddle of tears.
At times I can just feel the frustration overflowing from my heart. It builds up—and builds up, and builds up …
Life (and marriage) really sucks sometimes. It's just the cold, hard truth.
And you know what makes it even worse? A terrible attitude. Sometimes I very closely resemble a two-year-old. I whine and cry, I complain, and I refuse to talk to God.
In those moments, it's tempting to just refuse to pray; because I know that as soon as I throw up that prayer, my heart will change—even if just a little. Feeling like I'm giving up control of my heart, my feelings, and my attitude isn't easy. I don't want to hand things over to God. I attempt to keep things in my own hands. My gut reaction is to stay in control of as much as possible … even if that includes my babyish attitude.
Over time, I've started saying a "3 word prayer"—the prayer I force out of my lips when I'm tempted not to. Sometimes I barely get it out, but nonetheless, it's a real heart-softener.
Change my heart.
When my sin resentment takes over my heart and mind, it's hard to force myself out of "angry" mode. When my husband says something that rubs me the wrong way, when I'm having a rough day, when expectations aren't met. I feel like the victim, and that's not a great place to be.
Sometimes it feels so great to just be angry … especially when you feel like you deserve to be angry. But when you want to feel like the victim, just  remember that peace feels so much better. Force yourself to say a prayer, even if it's a short one. Ask for a heart change, for understanding, for grace. It's always worth it in the end.
"For to set the mind on the flesh is death, but to set the mind on the Spirit is life and peace." —Romans 8:6
[ois skin="Post Footer"]