To the Wife Who Goes Home and Cries at Night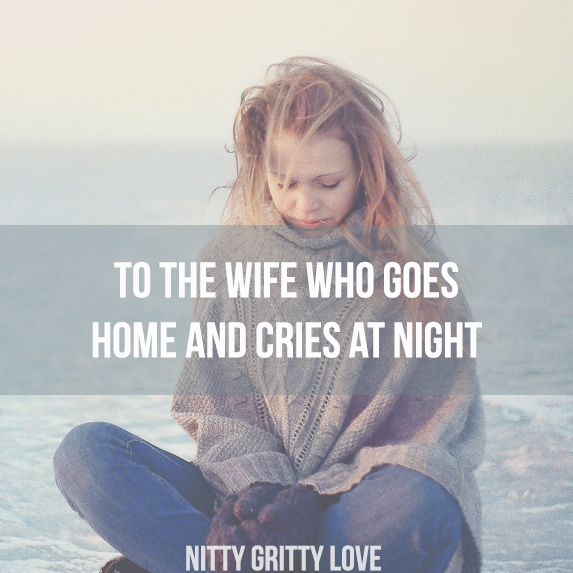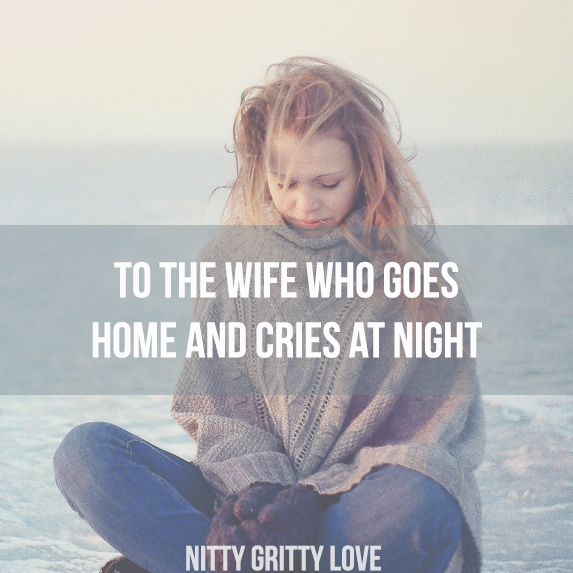 Lately I'm just tired. All the time. It takes every bit of my energy to get things done at work, and by the time I get home I'm beyond worn out. The thought of cooking, or cleaning, or adding one more thing to my plate, makes me want to cry. And sometimes, I do.
Even writing a blog post has been extremely overwhelming for me lately, and I'm not even sure why.
A lot of it is health-related, and just, discouragement related. After all the stress of the past year, I'm tired. And to top it off, I'm still not feeling myself. Blood test after blood test shows that things aren't quite back the way they should be. I fall asleep at my desk, on the way home (with Kyle driving, thank God), and when I get home. My hormones are still out of whack. I never know what to expect, and I'm just plain moody. And that's beyond frustrating. They said give it six months. It's been over a year. This isn't fair.

I feel pathetic for even making such a big fuss over things so small in comparison to the things those around me are going through.
Maybe you feel the same way. Maybe you feel like your problems are too small to matter. So you don't tell anyone. Instead, you go home and cry.
When you find yourself crying on your bathroom floor, know that though you might feel alone, you aren't.
"Praise the Lord!

For it is good to sing praises to our God;
for it is pleasant, and a song of praise is fitting.

The Lord builds up Jerusalem;
he gathers the outcasts of Israel.

He heals the brokenhearted
and binds up their wounds.

He determines the number of the stars;
he gives to all of them their names.

Great is our Lord, and abundant in power;
his understanding is beyond measure." –Psalm 147:1-5
You don't have to have a gaping, bleeding, hole. He heals the brokenhearted and binds up their wounds, no matter how big or small. He cares for your struggles whether they're made up of small scratches or deep cuts.
First off, you'd probably be surprised to know how many wounds those around you have. The ones who look the most put together. The one who does hair every day, who makes dinner for her family every night, even the one with the perma-smile (we all know one). Open up and be honest, you'll be surprised how many will return the favor.
And most importantly, you can't heal yourself alone. God created you and all your crazy emotions, so he surely understands. Even the Lord Jesus Christ wept when faced with sorrow (John 11:33-46). He was so deeply moved within because of the sorrow resulting from Lazarus' death that He began to weep.
Sure, it's good to be strong in the midst of difficult circumstances, but it is also important to acknowledge that you're hurting. How can your heart really heal if you can't acknowledge that it's broken?
Your problems aren't minuscule, and they matter. Admit that you're struggling. And know that whatever you endure, his love is unfailing and his promises remain.
Instead of desperately attempting to bandage up your wounds, day after day, week after week, give them up to the only one who can heal them. Instead of crying on the cold bathroom floor and going to bed feeling alone, cry out to Jesus.
"The will of God is never exactly what you expect it to be. It may seem to be much worse, but in the end it's going to be a lot better and a lot bigger." –Elisabeth Elliot
Lastly, know that I'm praying for you today. You are not alone, dear sister.