When Your Marriage Seems Hopeless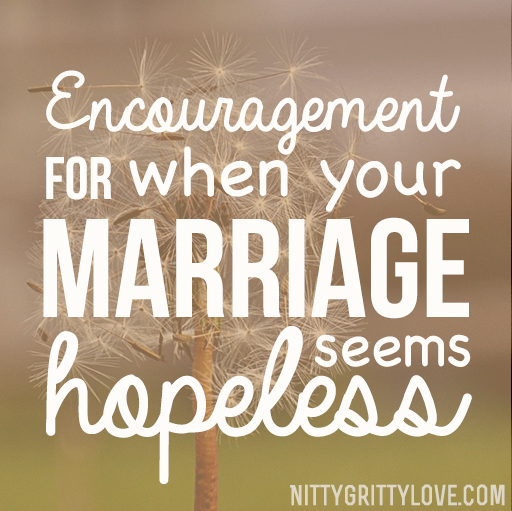 Even when it seems hopeless, God is still working.
When we hit the dry patches in marriage, it can feel like there is zero hope. Things might feel like they are crumbling all around you, but remember, God is always working on the inside. He is constantly sanctifying and changing us, and sometimes we grow the most during the toughest struggles. Nobody likes pain. When your husband hurts you, it's especially unbearable and your knee-jerk reaction is probably to get rid of the pain. (I am talking about the feeling, not a person.) It may seem easier to just quit, but if you push through, you will enjoy the fruit of your labor.
What started out as a union based on attraction and desire for one another can eventually fall into a battle of the wills. We're all self absorbed to an extent. We find it hard to see any other viewpoint other than our own, and when we're treated badly, we tend to justify our selfish motives. Since marriage is all about sacrifice and laying down our life for another, it's no wonder friction comes heavy on the heels of, "I do."
Instead of being shocked, understand that struggles happen to all of us.
Rather than demanding your spouse to change, you might need to get the ball rolling yourself. Take the microscope off of your spouse for a while and let God reveal their flaws to them. After time, you will notice your spouse softening towards you. Your kindness will melt some of the coldness that has settled between you. Don't worry about losing yourself in the process. God promises that when you lose yourself you will find yourself! As you let the Spirit walk you through this process of sacrificial love, you will discover freedom, not chains.
Tim Keller states in The Meaning of Marriage, "The Christian principle that needs to be at work, is Spirit generated selflessness—not thinking less of yourself,  or more of yourself, but thinking of yourself less." What he means is, when you realize that your own selfishness is  also a problem, and you confront it, you feel liberated. But this is something we do in God's strength, not our own. He is the one who changes our hearts, and He is faithful.
I look back and see that the little things that used to bother me were mainly a waste of my time. I feel more content when I see the grand scheme of things, knowing we are on a journey of sanctification. It's a painful and beautiful process. Intimacy and closeness are sparked by giving of ourselves, without expecting in return. It's about gently loving our spouse, as they experience the change that will come with selfless, Spirit-driven, kindness and consideration.
"And He died for all, that those who live, should no longer live for themselves but for Him who dies for them and was raised again." —2 Corinthians 5:15
[ois skin="Post Footer"]