Being Intentional About Your Marriage + Wife After God Giveaway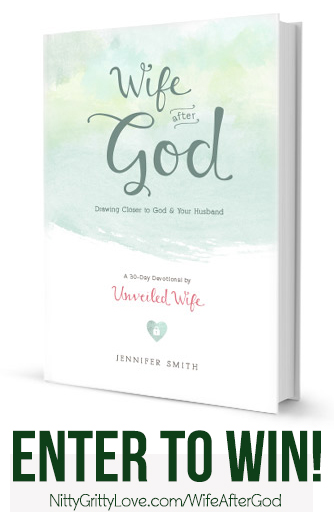 Marriage isn't easy, of course you know that. But I've been realizing over the past couple of months that there's one word relating to marriage that isn't as often associated with marriage as forgiveness, or selflessness, or other important virtues—that word is intentionality!
Marriage takes hard work and improvement. Yes, a lot of that takes time, it takes lessons learned, and it takes experience, but you have to be intentional about improving your marriage. Read the Bible and apply it to your relationship with your husband, subscribe to Christian marriage blogs, and soak up as many marriage books as you can. Taking in so much information can seem overwhelming, but you can take it in small chunks.
Wife After God helped me do just that. And not only was I able to be intentional about my marriage, but I was able to be intentional about my relationship with God! All you have to do is dedicate 30 minutes each morning for 30 days, and I promise your marriage will be greatly impacted.
Each day you'll find an encouraging and challenging devotional, a prayer, and a journal prompt. It's truly the perfect way to be intentional about your marriage when you aren't sure where to start.
I'm excited to announce that we're giving away two print copies of Wife After God. Enter below, and be sure to tell your friends!
If you're on a mobile device, CLICK HERE.
a Rafflecopter giveaway